Make money with Google Ads... just like me!


GLOBAL WARMING: A GLOBAL WARNING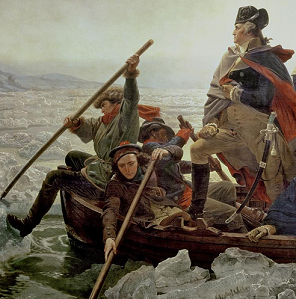 Look at this picture of George Washington crossing the Delaware River in 1776.

Notice the huge blocks of ice that must be pushed out of the way for the boat to cross. A man who fell out of that boat died quickly in the icy water.

In my lifetime, the Delaware River has not frozen this way because in NJ and PA (that this river runs through) we now have had winters like those in sunny FL (much farther South).
What Can You Do to Help: Reduce, Reuse, Recycle, and Go Green

If everyone does their part, together we can help to stop global warming from destroying our precious and irreplaceable environment. Here is how...
What Can You Do to Help: Reduce

* Quality Saves: Consider the durability of a product before you buy it. Less durable items often wear out quickly, creating waste, and costing more money.

* Shopping Bags: Use cloth bags to carry groceries to cut out the need for plastic or paper shopping bags. Be sure to recycle used plastic or paper bags.

* Less Packaging: When you can, buy products in concentrated, bulk, multi-packs, and/or in refillable reduced packaging to reduce waste.

* Less Bulky: To reduce bulk, use two-sided printing and copying. Go from paper to online storage to save space. Print drafts on the backs of waste paper.

* Buy in Bulk: When you buy in bulk, you save money and reduce packaging waste. Look for items with packaging that can be reused or recycled.

What Can You Do to Help: Reuse

* Recycled Products: When buying products, check the labels to determine if it is made from recycled materials and/or if it can be recycled. Buying recycled products encourages manufacturers to make even more recycled products.

* Recycling Programs: When purchasing new items, especially electronics, consider buying from companies with programs that includes proper recycling.

* Multiple Uses: Before buying something new, look around at what you have to see if it can be reused for a different purpose.

* Extended Uses: Reuse items around your house such as rags and wipes, empty jars and mugs, party decorations, and gift wrap.

What Can You Do to Help: Recycle

* Daily Recyclables: Recycling items used daily like paper, newspapers, beverage containers, batteries, etc really makes a difference.

* Big Recyclables: Recycling big and bulky items is easier than you think: just check with your local recycling facility to see what big items they will accept (and even haul away for you!). For businesses, there may be federal and/or state regulations on the disposal of electronics and other office equipment.

* Food Recyclables: Donate your unused non-perishable and unspoiled perishable foods as well as your whole, untouched leftovers from parties to local food banks, soup kitchens, pantries, and shelters.

* Food Leftovers: Put leftovers in recyclable containers to enjoy again. Be sure to use or give away your food while it is fresh so that nothing goes to waste!

What Can You Do to Help: Go Green

* Green Cleaners: When buying cleaning products, use safer, natural alternatives to hazardous, harsh chemical products. Not only do green cleaners work, they reduce toxic particles in your home and inside your lungs.

* Energy Efficient Items: When buying electronics, such as computers, look for the ENERGY STAR® logo or items that are EPEAT-registered.

* Upgrade First: Before replacing your computer, consider enhancing its capacity by installing a hard disk drive, chip, or memory-expansion card. Such modifications can be made cost effectively and this helps you to get more out of your equipment.

* Refurbished Items: Return products to retailers or wholesalers that recycle them, especially cars, car parts (like tires), and computer items (like toner cartridges) that can be refurbished and have new life.
If you know of any other ways to help out the environment, email me, and I will add your suggestion to this page!
Credits: from the State of New Jersey and the US Government (EPA).

KEYS:
F-R-E-E:
SERVICES:
BOOKS:
TOOLS:
CONTACT: