Make money with Google Ads... just like me!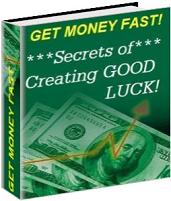 AFFILIATE TOOLBOX:
Let's Make Money Selling eBooks!
"Secrets of Creating Good Luck":
*** Winning Headlines ***
You can use these headlines - customized for this ebook - on your site or in ezines as text links, and banner ads, or as the subject lines in email ad campaigns, etc. Or use your own! :) Be attention grabbing but be sure to practice good karma!
For Those Just Over Broke:
Who Else Wants To Start Making A Fortune?

Still NOT Making the Money You Deserve?

Never Run Out of Cash Again!

The KEY to Your Prosperity is Here

Learn the Secret that Made Jim Carrey a Multi-Million Superstar!
For Success Seekers:
Get The Real Secrets To Outrageous Succe$$

Discover the Real Secrets to Success in Life!

Here's the Missing Ingredient in Your Success...

Want to know why you might NEVER succeed in life?
For the Luck Oriented:
Tired of Failing? Ready to Succeed?

Tired of Being Unlucky? You CAN Change Your Luck NOW!

The SECRET to Changing Your LUCK... Revealed!

The Truth About GOOD LUCK is finally revealed...

How the Rich Create Luck... How You Can too!

Are YOU Ready to Get Lucky? Click Here!
For those Interested in the Inner Game:
Train Your Brain to Be More Powerful than a Search Engine!

Unleash Your Secret, Inner Money Machine

Align Body, Mind, Emotions for Lavish Abundance!

Create True Prosperity from the Inside Out

Win the Inner Money Game: Think Like a Millionaire!
Setting Up a Text Link:
<a href="http://hop.clickbank.net/?x/good_luck">YOUR HEADLINE HERE</a> where ?x is your ClickBank id!
Example: <a href="http://hop.clickbank.net/?my-click-bank-id/good_luck">Win the Inner Money Game: Think Like a Millionaire!</a>
Just copy and paste and text you want into the headline area between the > < tags.

Your will see that the headline is underlined as a hypertext link on your web page.

Try several different headline links in various web pages on your site. People may respond to one headline and not to another. The more headline links you have out there, the more people are likely to click through and buy!
Back to the Main "Affiliate Toolbox" Page