Make money with Google Ads... just like me!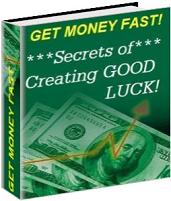 AFFILIATE TOOLBOX:
Let's Make Money Selling eBooks!
"Secrets of Creating Good Luck":
*** Other Marketing Tools ***
You can use these letters to interact with joint venture (JV) and affiliate partners. Feel free to edit them or to create new ones that are better suited to your marketing methods. Only you know your list and what you like is bound to work best!
==========================================
Sales Letter JV-Affilitate Partners Can Send to Their List
==========================================
The easiest and fastest way to market ebooks is to send an email to your *opt-in* email list.

An *opt-in* email list is a list of email addresses from people who have voluntarily subscribed to your ezine (email newsletter). This means these people have given you *permission* to send them email because they have *requested* further information from your site.

You *must not* email any of our information to *unsolicited* to ANYONE. *Unsolicited email* is SPAM and it causes us both trouble (as minor as "hate mail" and as major as "legal action") so be careful about who you email! Below are sample emails that have worked well in promoting these ebooks. However, feel free to change them to better fit the needs of your list.

WARNING: If I receive complaints about you spamming, your affiliate account will be terminated immediately! Please exercise good judgment and good karma!
==========================================
Subject: [[First Name]], Secrets of the Mega-Rich

Hi [First Name],

Did you know that there are more millionaires now than ever before in history? It's true!

Whether people are making *big* money in Real Estate, on the Internet, or in Network Marketing... all these of "millionaires next door" know the secrets of becoming mega-successful... now you can know them too!

Recently I learned about an amazing new resource that gathers these life enhancing secrets in one place:
* Secrets of Creating Good Luck *
How to Attract Money & Abundance &
Whatever Else You Want - Quickly!
Click here => http://hop.clickbank.net/?x/good_luck

What is great about this program is it shows you EXACTLY how to attract money and abundance... Anyone can do it if they want to regardless of age, education, or background.

Here are some of these "Secrets of Creating Good Luck":

* The universal laws of luck that always work... that you will not find anywhere else... Master the 4 levels of luck and money, happiness, & success are yours!

* How to attract wealth automatically - the same techniques used by multi-millionaires now and that were used by the mega-rich throughout history.

* How to unleash your every talent and potential: what you can dream and imagine, you can be, do, or have.

* The easy leading edge technologies that have POWERED others from abject failure to stunning success!

* What will motivate you in achieving success... if you are not successful, you will learn why.

* How you can change your luck in just minutes a day, especially if you have been unlucky in the past.

I am really excited about this because I know that the life changing information in this ebook can help you to become all you can be!

You can start living your dreams!

Check it out: http://hop.clickbank.net/?x/good_luck
* Secrets of Creating Good Luck *
How to Attract Money & Abundance &
Whatever Else You Want - Quickly!
(regardless of age, education,
background, or past failures!)
Sincerely,
[Your name]

P.S. "Secrets of Creating Good Luck" has information in it that is simply NOT available anywhere else!

Click here => http://hop.clickbank.net/?x/good_luck
==========================================
Letter to Recruit Other JV-Affilitate Partners
==========================================
Dear [Affiliate],

Thank you for your website, [name it here], and your [name it here] ezine: they are valuable resources.

I found the information on [whatever the partner has written - do your homework, be sincere, and be specific as to what you liked] to be very useful.
That is why I am offering you a profitable opportunity! 70% commission on all the sales (from your list) of Ellen Mogensen's book, "Secrets of Creating Good Luck" which has been marketed successfully for over 2 years.
This book sells well due its popular subject, quality content, and its bundle of $250 worth of free gifts.

I think your readers would enjoy and profit from this book because your ezine subscribers are [seeking useful information on how to become more successful, especially when it comes to making more money -OR- whatever else you think is best].

It will be especially attractive to your subscribers because [it is a comprehensive and complete solution: everything your readers need to create luck is here! -OR- whatever else you think is best].

http://www.healpastlives.com/bigmoney.htm is the sales page. To help you promote the book, I would be glad to offer you a teaser article for inclusion in your ezine (if you so desire). If you are interested in becoming my partner, you will receive a F~R~E~E copy of this ebook so that you can be assured of its quality!

For the next week, I am offering it to you exclusively [or whatever offer you think best]. I will not offer it to any other partner until I have heard from you.

If you are interested in offering it to your list, Email me at [your email address] or call me at [your phone number].

Thank you,

[Your signature]

BTW: The subject of luck is a proven market winner both on and off ClickBank...

Joe Vitale/Stuart Lichtman's "How to Get Money for Anything Fast" is a top seller (but mine goes further in addressing how to get past karmic blocks to luck).

Charles Burke's book "Command More Luck" sells well from his site (but again I present the details on the techniques to use so that the eBook is a complete package... not just pointing out where people can search for such techniques).

Pat Brennan's book on "Luck" (not as comprehensive as my book) is a top seller on ClickBank (he was #1 in Philosophy before ClickBank redid the Categories into Philosophy & Religion where his book has been consistently in the top 20).
==========================================
Author's Short Bio: only if you want to include it!
==========================================
Ellen Mogensen

Author of 9 Books on Luck, Soulmates, Karma, and More!
Creator of The Largest Resource on Past Life Healing
Change your life for F~R~E~E at www.healpastlives.com

532 Old Marlton Pike
Fun Life, #248
Marlton, NJ 08053
==========================================
Back to the Main "Affiliate Toolbox" Page
KEYS:
F-R-E-E:
SERVICES:
BOOKS:
TOOLS:
CONTACT:

Discover the Ancient Secrets
to Creating Vibrant Health!

Breakthrough Chakra Healing Program
combines the BEST of Ancient and Modern
Technologies to Heal Your Life Naturally.

Click here or on the image of the ebook for
testimonials about healing successes!
Home | Instant Info | Past Life Profile | Catalog | Email
Terms of Service Earnings-Income Statements Health-Medical Statements Our Services
Copyrights-Trademarks Notice Privacy Notice GDPR Anti-Spam Policy
FTC Compliance Notice DMCA Compliance Notice Social Media Disclosure
Report Abuse

Web Site Hosted by Net Atlantic

by New Age Web Marketing
Copyright © 2000-2021, Ellen A Mogensen, Past & Now Forward Holistic Counseling,
532 Old Marlton Pike, Fun Life 248, Marlton, NJ 08053 (856) 988-0197
Past Forward(TM) & Now Forward(TM) are trademarks of The Fun Life Company.
All rights reserved. http://www.healpastlives.com heal past lives, karma, reincarnation